Benefits of Handmade
When you are thinking about purchasing a new leather wallet or bag, you might be asking yourself if and why you would want to choose handmade. There are many advantages to buying a handmade leather wallet or bag be it the quality of craftsmanship or the reduced environmental impact.
A small team matters when it come to leather goods. At Clark Morelia, the same people who sell our products also make every one of our products from start to finish. This is important because we are selling work that we fully believe in. From The first cut of the leather to the last stitch we are inspecting every detail, making sure the pieces that we ship out meet our high standards. This is something we will never compromise on. If our small team grows in the future production will always be done in house by a group of people who truly care about leather craft.
We have made a commitment to producing all of our goods in Pittsburgh as well as using all US based suppliers for leather and hardware. Think about the journey that materials and finished goods go through for a mass produced product. Large companies may get the leather from one country, hardware from another, which is shipped to a third country for production, yet another for distribution, then finally to the store or end user. Although we are operating on a much smaller scale than large brands, we are committed to cutting down the distance our materials travel from start to finish as much as possible.
Buying handmade also means you can count on your leather goods for years to come. When we started Clark Morelia, we were tired of buying wallets that the stitching would wear out after only a year or two. We were tired of throwing away belts that were splitting because of low quality materials. We made the decision to make high quality handmade leather goods and do so at a price point that still felt affordable. There are many steps that go into making Our products, and we wanted to highlight a few that are part creating a hand stitched leather wallet.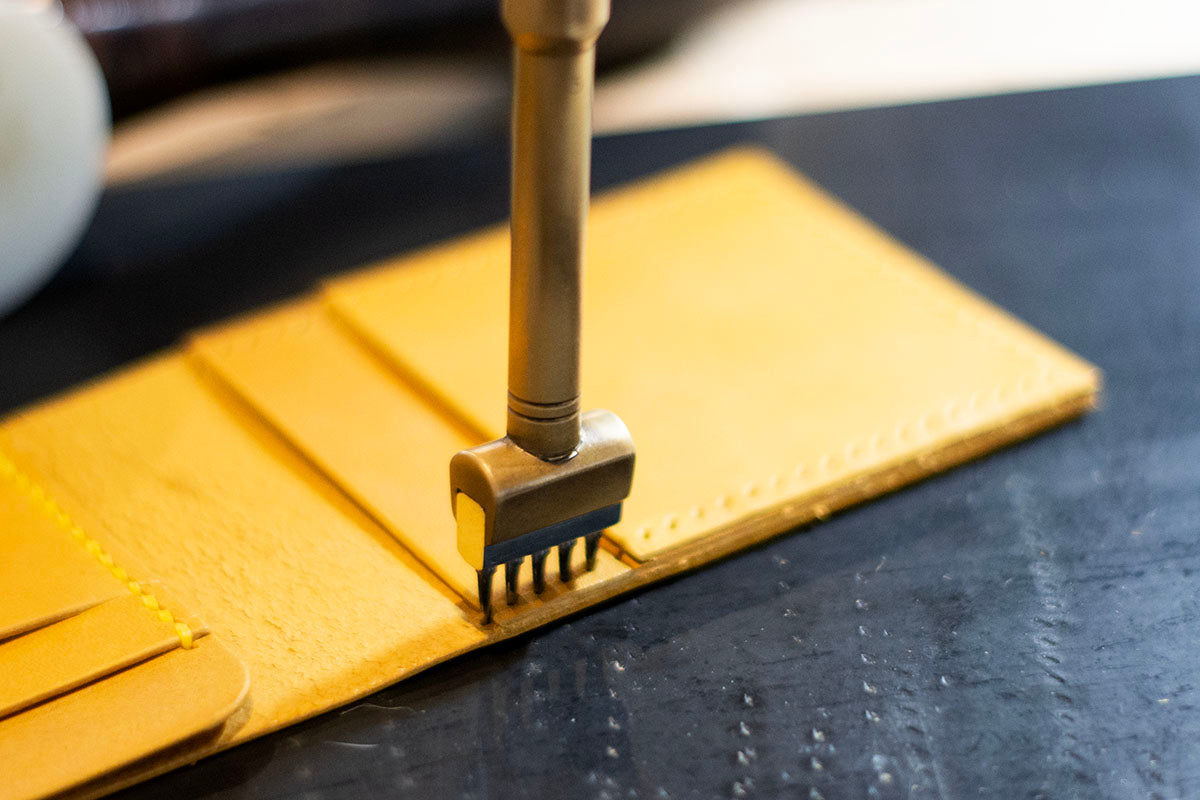 Adding stitch holes
We use a tool called a stitching chisel to pre-punch all of the holes that will later be hand sewn. These tools make sure the spacing between all of the stitches is consistent throughout the wallet. Leatherworking has a varity of beautiful tools, but these stitching chisels are one of our favorite.
Saddle Stitch
Hand stitching leather uses a method called the saddle stitch. This technique uses a long thread with needles at both ends that pass back and forth through each hole. The saddle stitch is the strongest way to sew leather because it creates two seperate parallel lines of stitching. This produces a much stronger and more durable stitch than machine stitching.
Sanding and Burnishing
The finishing steps of any leather product are what pull it all together. All of the visible edges on our leather bags and wallets are sanded and burnished to create a smooth and polished finish. In the image you can see both edges have been sanded, and the top edge has been burshied to a shiny finish. The bottom edge will recieve the same treatement.
Final Inspection
Every item that leaves our workshop will meet the same high standards. Because leather is a natural material, the color and grain of the leather may vary slightly from piece to piece, but the craftsmanship will always be the same. All that's left for you is to start developing your own patina!